Whether you're a high school junior or a senior these tips will help you quickly get into gear for the fall semester in terms of your classes, the college admissions process, test prep and, of course, your scholarship search.
Yes, there's a lot to remember but these tips will help you keep everything on track all semester long by starting out organized, with a plan and with the right goals in mind!
1. Check in with your guidance counselor
Your guidance counselor can help keep you on track with your college admissions process and ensure you're on track to graduate with the right courses to meet both your graduation requirements and look good on your college applications. Stop and check in to make sure you're on the right path to achieving your goals, at the very minimum, each semester.
2. Set semester goals
How do you know where you're headed if you haven't mapped out a goal plan for yourself? Create concrete goals for this (and each) semester to work towards achieving.
Try to include your classes, the college admissions process and applying for scholarships within your goals.
3. Befriend your teachers (you'll need recommendation letters soon!)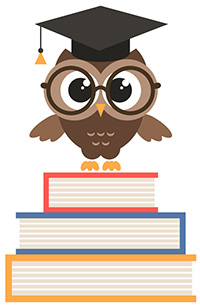 Start the semester out on a good note with your teachers and talk to them before, during (through class participation) and after class. Remember, you'll need teachers who know your unique personality when it comes time for recommendation letters, so getting to know each of your teachers on a personal level will certainly come in handy.
4. Map out deadlines, due dates and other important reminders in your schedule
Whether you decide to utilize an agenda, a calendar or your phone, make use of some sort of planner to keep track of important dates and deadlines from syllabus you receive in class, standardized testing dates, important admissions deadlines and any scholarship reminders. If you take the time to set it all up at once and get into the habit of continually updating it as necessary, it will become much easier to keep track of everything you need to remember.
5. Set up a study routine
As you prepare to head to college, creating a study routine becomes increasingly important to your college preparations. Try to set aside a certain amount of time each evening focused your classes and, on certain nights, college admissions or your scholarship search. Continue this practice until it becomes second nature.
6. Start researching colleges
Now is the time to begin exploring colleges. Create a list of what you'd like in a school and begin researching what schools you're thinking about applying to. Do they meet the criteria on your list? You can start to cross off the schools on your list that don't, move up the schools on your list that do and you may even discover, through your research, schools you are interested in that you didn't even know you liked!
7. Challenge yourself
It's important to colleges that you continue to challenge yourself throughout your junior and senior years of high school. This is in reference to academics but, also, in terms of extracurricular activities, high school clubs, part-time jobs and volunteer work. Try to keep as busy as possible and remember that you want your college applications to be as full as possible. That being said, don't join just to join – you actually have to participate.
8. Work on college test prep regularly
As mentioned with creating a study routine, maintain a healthy regime of ACT/SAT prep. You can decide to take a course in-person or online, utilize practice tests, books or questions at home or use flashcards on the go. There are many ways to study, simply choose whatever works best for you on any given day and stick with it!
9. Search and apply for Scholarships
Between classes, studying for standardized exams and the college admissions process, it can be easy to put the scholarship search on the back burner. That, however, is a big mistake. As you know, the scholarship search is ultimately a numbers game. The more you apply to, the better your chances are of winning. So, if you don't apply, you won't win. It's as simple as that. Set aside time to apply for a minimum number of scholarships and that will be your weekly scholarship goal. Ensure you meet your goal each week throughout the school year – it can go a long way to helping you pay for college!
10. Start brainstorming college admissions essay topics
Whether you're a high school junior or a high school senior, college admissions essays are coming. Start thinking and perhaps even jotting down ideas for your college admissions essays. Since you're not sure of what the essay prompts may be, start with any unique experiences you've had, what defines you, what drives you and what type of career passions you'd like to pursue.
Need Money to Pay for College?
Every semester, Fastweb helps thousands of students pay for school by matching them to scholarships, grants, and internships, for which they actually qualify. You'll find high value scholarships like 
VIP Voice's $5,000 Scholarship
, and easy to enter scholarships like 
Niche $2,000 No Essay Scholarship
, and internships with companies like Apple, Google, Dreamworks, and even NASA!
H.S. Seniors, don't forget to check back in with us early next year to enter to win a PAFCU Scholarship!
The CU would like to wish all of our teen Members success this coming year!